Alfa Romeo Model Reviews
Alfa Romeo has a variety of amazing models that are fit for families and single drivers. The brand has a variety of features that you can feel confident in relying on when you are driving out on the road. For this reason, a lot of people have been choosing to make use of the brand and are finding it to be a wonderful choice for all of their needs. If you are interested in Alfa Romeo and want to know more about model reviews, we have all that you need to know before making the decision on the one you would like to buy.
Ron Lewis Alfa Romeo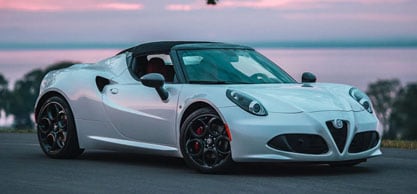 Alfa Romeo
4C Spider
Affordability
Alfa Romeo offers an affordability that makes driving these cars incredibly effortlessly. The great prices are ideal for people who want or need to be able to find the car of their dreams without breaking their budget. You can find a variety of amazing vehicles specific to Alfa Romeo that you can afford. Special financing is available so that you can drive away in your new vehicle without it being a problem. For this reason, a lot of people have chosen Alfa Romeo and are thrilled with what this amazing brand has been able to do for them.
Reliability
The Alfa Romeo brand is a reliable vehicle that you can trust. These vehicles range from being family-oriented to more sports-like. Because of this, there is an Alfa Romeo for virtually everyone and it is a wonderful asset to people who want or need to be able to drive around in style. You can get the vehicle that you need by looking through the vast models that are available to you. You will be able to get into a vehicle that you are able to trust and one that is going to be the perfect fit for anyone who happens to be driving around with you.
Great Performance
The Alfa Romeo vehicle offers amazing performance and great gas mileage to make your driving experience a whole lot easier. This is the reason so many individuals have chosen Alfa Romeo and are finding their new car to be a great fit for all of their needs. The car gets fantastic safety ratings, allowing you to feel confident knowing that you have chosen something that is going to beat anything else that you might have owned in the past. When you have a vehicle like the Alfa Romeo to drive in, you know you are choosing something that is going to be the right fit for your needs.
If you are interested in owning a brand new Alfa Romeo, you can come in and give one a test drive. The different models are readily available to you, allowing you to pick and choose the Alfa Romeo that's right for your daily needs as well as your family. There are a lot of reasons for you to own an Alfa Romeo and these include reliability, affordability, and performance. Each model has varying features that are suitable for making your drive a lot easier and more convenient on the road. There are lots of reasons to give the Alfa Romeo a test drive, so be sure to contact the dealer to learn more about this amazing vehicle and what it offers to you.